Warning: Gratuitous fangirling and Sci-Fi show recommendations ahead.
For those of you who've been paying even the remotest attention to my entries, I'm sure you've realised by now that I'm a huge Doctor Who fan. Yep, I'm a complete series owning, Weeping Angel fearing, TARDIS mug displaying fangirl, and damned proud of it! But it might surprise some of you to hear that, of the whole DW franchise, Doctor Who isn't actually my favourite show.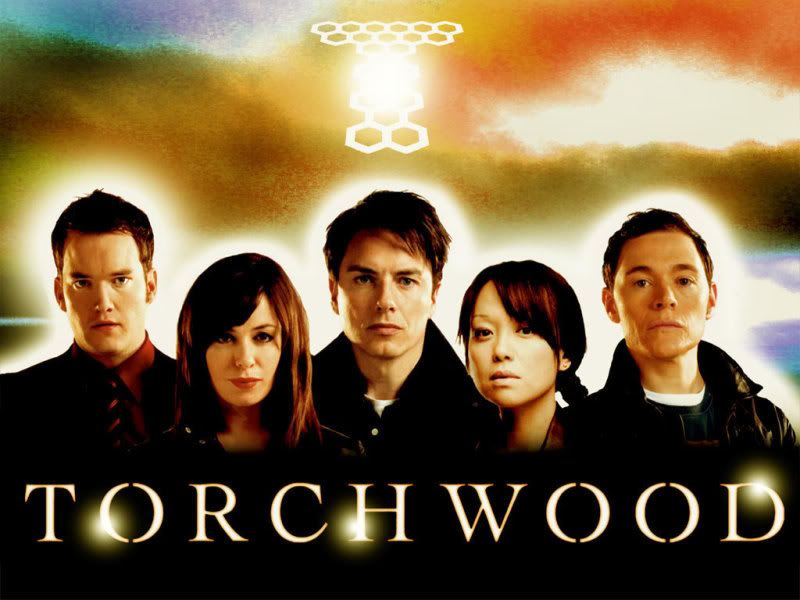 Torchwood has that honour.
For those of you who've never seen the show, allow me to give you a brief run down of it. The main character is one of the Doctor's former companions, the great coat wearing and sparkly smile flashing Captain Jack Harkness who pretty much runs around waving an antique gun and sleeps with anything that stays still long enough. In the show he runs a mysterious organisation called Torchwood (it's an anagram for Doctor Who) which exists to protect Earth from all the aliens that are being dropped through a rift in space and time. Well, to be honest they exist to capture the Doctor ... but let's not get into that.
As far as sci-fi/fantasy concepts go, it's pretty run of the mill. Captain Jack and his band of merry alien hunter, tearing around Cardiff in the worlds most obvious SUV. It's kind of like Scooby Doo, but with lots and lots of sex. But it wasn't the concept or the storylines that got me so hooked.

It was the characterisation.

These characters are all so ridiculously flawed. They're awful to each other, say the meanest things, make ridiculously huge mistakes out of selfishness and greed ... but somehow you still can't help loving them. The thing that makes it so brilliant is that if you asked me, I couldn't even tell you why I love them.

You've got Ianto, the Alferdesque type butler character, all three piece suits and calm efficiency, who it turns out is hiding a killing machine in the basement. Owen, the doctor who the first time you see him is using the alien equivilant of a date rape drug to make himself irresistable to the girl he's trying to pick up at the bar (he ends up going home with her AND her boyfriend). Toshiko, the tech specialist who was in jail for treason, although to be fair she did steal the plans to a weapon to try and save her kidnapped mother. And the character that gets introduced to them all at the beginning of the series, Gwen. She's portrayed as being the "heart" of the group, all empathy and big sad eyes. But within the first season she's sleeping with Owen, drugging her husband after he found out about the affair to make him forget, and pretty much spends the whole time making cow eyes at Captain Jack even though he's in a relationship with Ianto.

These characters are all just so ridiculously flawed, and I think that's what makes it work. Usually when you watch a show like this the characters are all up to the task, fully equiped with the skills they need and gung ho to get the job done. In Torchwood, they're all in completely over their heads, and they know it. Instead of dealing with that in healthy ways, they fall back on every one of their vices as a way of ignoring the fact that they're fucking terrified of what's going on around them. I think, as much as we like to watch the heroes save the day, we see more of ourselves in these characters who are barely coping, but keep going anyway.

This is my recommendation to you all. Get a copy of Torchwood and give it a go. It's sometimes tacky, sometimes crass, but I can guarantee it'll make you think.

So, what shows do you think are seriously under rated and deserve more of an audience?