For those of you who haven't realised it yet, I should probably tell you that I'm Australian. That's right, I'm a proud, dinky di Aussie. I've played a didgeridoo (badly), sat on the steps of the Opera House, and I can understand Crocodile Dundee without the subtitles.
By the way, do you have any idea how hilarious we found it that they needed to put subtitles on the movie Crocodile Dundee? His accent wasn't THAT thick! Did you guys really need it?
But the truth is there really isn't that much of a difference between an Aussie and any other Western culture. In fact, we're pretty much a mixture of American and British. The one thing we have, though, that is uniquely ours is our food.
Not all of it of course, but there are a few things that define us. Lamingtons, Tim Tams, Chiko Roll, Pavlova, they're all uniquely Australian. But the one thing that's always defined us is, of course, Vegemite.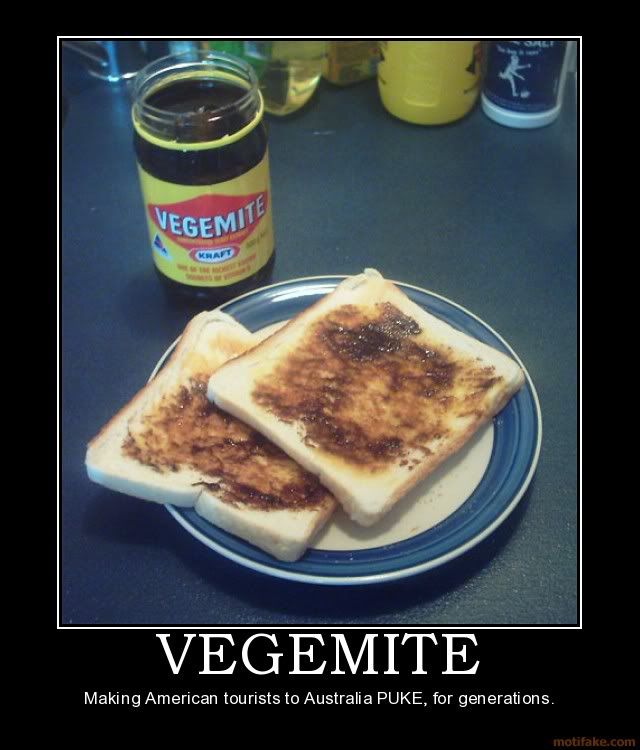 In case you don't know, Vegemite is a sandwich spread that's made from a yeast extract. It's black, tar like, and incredibly salty. I remember watching a video once where an American fellow described it as tasting like salt and pain. A little melodramatic, certainly, but I can see where he was coming from. It really is very salty.
We're usually given our first taste of Vegemite as soon as we're old enough to eat a piece of toast. It's a bit of a rite of passage. Because of this, we usually can't remember a time when we DIDN'T eat Vegemite, so there's no memory of the first time or of learning to love it.
I'm not sure how many of you have ever tried Vegemite, but let me just say ... it's an acquired taste. I acknowledge that. I've seen enough youtube videos of people from overseas trying it to realise that unless you were raised on it, you're probably not going to like it. But personally, I have a hard time understanding how someone COULDN'T like it!
All through my childhood I had Vegemite sandwiches packed in my lunch. Even now, as an adult, I eat Vegemite toast for breakfast more often than not. I know a lot of things people overseas believe Australians do are just stereotypes, but take my word for it, eating Vegemite is something that we definitely do. In fact, given its salt content, some might say we eat it too much.
But the reason I'm bringing it up is that I've decided to try a little experiment. I'd like to see if Vegemite is really as offensive to people from overseas as I've always been led to believe. In order to find out, I've decided to send some to three lucky readers (to be selected randomly from the comments to this post) so that they can try it for themselves and report back to us all on how they found it.
So if you'd like to join me in this highly scientific endeavour, leave a comment saying so. I'll randomly select three lucky individuals and, after contacting you to get your postal address, I'll send you some Vegemite. I'll be taking the names two days after posting and leave messages for those who are chosen.
Then we'll see whether Vegemite is something only an Australian can love.