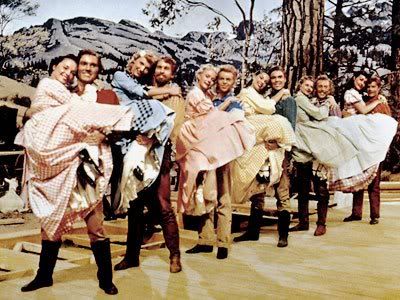 Everyone's happy in a musical ...
and perfectly choreographed!
Today I decided to have a bit of a bludge and spent the day on the couch watching old musicals. Yeah, my life is just that exciting. But it was cold and I didn't want to leave the warmth of the heater and if I decided to go out I'd have to do my hair and put make-up on and, you know, actually change out of my pyjamas, so I'm going to say I made the right choice.
I do love a good musical, though. Singing In The Rain, Brigadoon, On The Town, all those old 1950's romantic movies with tons of singing and dancing in them. They just don't make them like that anymore. So I sat curled up on my couch, wrapped in a doona, and watched as pretty girls in twirly dresses sang and danced with debonair guys in very tight pants.
Seriously, have you ever noticed that? All the male dancers back then wore their pants so tight! What with all the jumping around and raised body temperature, I don't even want to think about what that meant for their sperm count!
But after watching so many of them, I'm pretty sure I have a good idea of what life was like back in the 1950's for an average girl. Yep, you could drop me cold into the middle of small town America in 1955 and I'm sure I could muddle my way through based on what I've absorbed. And because I'm kind, I've decided to tell you all what I've learned.
So sit up straight, take notes, pay attention, and there may be a test later.
1. All small town girls want to be famous. No, seriously all of them. They can all sing and dance like pros, despite the fact that they live out the back of nowhere, and they all look like pin-up models.

Every bus out of every tiny one horse town is crammed to the roof with teenaged girls on their way to stardom on stage and screen, and no one seems to doubt for a minute that they'll be famous within a fortnight. Going away parties and pep rallies seem to be the norm to wish the soon-to-be-famous young lady Bon Voyage ... which, you know, no pressure or anything.
2. When a girl gets to Broadway/Hollywood/Wherever, she will invariable meet a nice, paternal, non-sexually threatening gentleman who will help ease her way and act as an advocate in any situation without seeming to get anything out of it.
He won't swindle her for every last cent she has or try the "casting couch" on her. Nine times out of ten, that gentleman will be Donald O'Connor.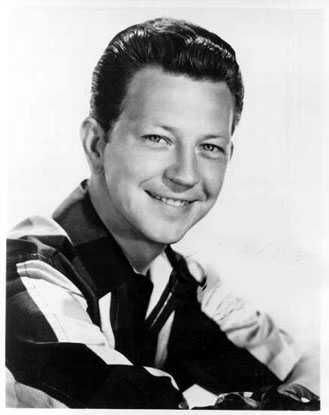 Is this a trustworthy face
or what!
As far as I can tell, although it's not made clear, this gentleman seems to be completely asexual ... or maybe a eunuch ... either way, she'll be completely safe in his non-sexual hands until someone comes along to sweep her off her feet.
3. If a girl meets a gentleman who she takes an instant dislike to, but who doesn't come across as creepy, then in all likelihood this gentleman will turn out to be someone she'll be romantically linked to in about twenty minutes. If she yells at him, then she'll probably end up marrying him. If she slaps him, you might even get to see the wedding by the end of the movie!
Evidence would indicate that mating rituals back in the 50's were rather violent.
4. There will come a point when a girl will start to doubt her own talent and decide to give up her bright light and big city dreams. Maybe she gets screwed over by a colleague, maybe she doesn't become a household name the first day as she'd been led to believe she would, maybe Mr Oh-So-Cranky-Cut-The-UST-With-A-Knife is mean to her and she feels the need to run home weeping.
Swoon!
But a convenient plot twist will appear at the last minute, usually in the form of a big important show where she has to step in at the last minute and take over for the star. This seems to happen a lot, so I'm going to assume that this is the way most people get their big break in show business. This will result in the acknowledgement and adoration of everyone, including anyone who doubted her before. There may even be a marching band!

5. No matter how famous a girl gets, the ultimate symbol of her success will be finding a husband. If that husband can also sing and dance, all the better.
Life was a lot easier back in the 50's, wasn't it.