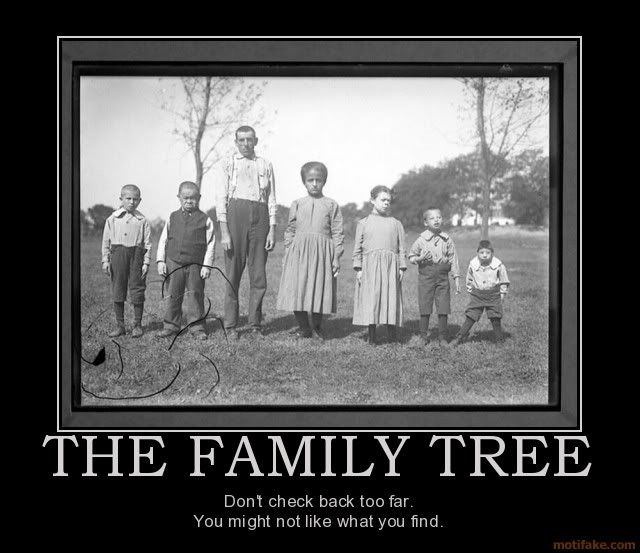 I remember when I was younger hearing a song on the radio called
"I'm My Own Grandpa"
. It was one of those natty novelty tunes, where a man marries a widow with an adult daughter, and his father marries the daughter. Then both couples have kids.
Go on, think about the family tree for a minute ... the father is the son's stepson in-law. The father's kid is the man's half brother AND step grandson. The man's daughter is the father's half step-sister AND granddaughter. And, of course, the man is his own grandfather. Trippy, huh?
But of course even with the worlds most fucked up family tree, no one in that particular song was involved in incest.
Not like
this poor woman
in Ohio who found out after her husband's death that the man was, in fact, her father. Can you imagine? You live with a man for all those years, only to find out later that all that time you were being lied to. And not only by him, but by family, friends, pretty much half of the community!
Because you can't convince me that they didn't know! Sure most of them are dead and gone now, so there's no way to know for sure, but some of them MUST have know! After all, it was an uncle who told her after the man died. Makes you wonder why the hell no one thought it would be a good idea to clue her in before she married him, doesn't it!
I think if I was her I'd be utterly furious with everyone, and I certainly wouldn't be letting it get out into the media, but this woman made the decision to go public. Seriously, that takes some guts! She wanted to show that it was possible to get over something like this, and that she wasn't ashamed. And she shouldn't be! SHE didn't do anything wrong!
No, it was the people in her family who fucked up royally! It was her husband who I'm sure knew what their real relationship was! They must have had heaps of time to clue her into the fact, or even let her know later on, but instead they chose to just let it stay secret. But this woman, she didn't do a damned thing to be ashamed of, and I give her total credit for embracing that fact.
... but if I'm being completely honest, I have to admit that the first thing that came into my head when I read this was "Oh god, I hope he never asked her to call him Daddy when they were in bed".
Yeah, I know. Sorry.