Ever since the terrible shooting that happened in a movie theatre in America last week, there's been a lot of talk about whether it would have been so bad, whether those people would have been safer, if access to guns was different. The funny thing is, though,
I've heard the same arguement made for both tightening gun control, and for freeing it up
.
Personally, I have no idea which would be better. Loosen gun control? Every man and his dog will own one, and lets be honest, with human nature being what it is it's just a short jump to them thinking that means they have the right to fire it with impunity. Tighten gun control? Well it won't stop people buying guns, they'll just do it in more illicit ways. We'll have oodles of untracable, illegal firearms floating around.
Both suggestions seem to have their faults, as far as I can see. If I was forced to pick a side, I'd probably go for tighter control, but I suspect that's just because I'm Australian where we don't have this inbuilt sense of entitlement to own a gun. The whole "right to bear arms" thing has never applied to us, what with us all starting off as convicts. Only an idiot would bring a bunch of criminals to a far off, isolated place, then tell them that sure, you can have a gun!
The idea of owning a gun, quite frankly, scares the bejezus out of me. I wouldn't even want to touch one, let alone own one. The only person I know who has one is a police officer, which I guess you can put down to an occupational hazard. My Opa used to have a rifle that he kept behind the back door when I was a kid, but I'm almost certain it didn't work and he just kept it there as a scare tactic. So you can see my knowledge of all things firearms is woefully inadequate to be making these sorts of decisions.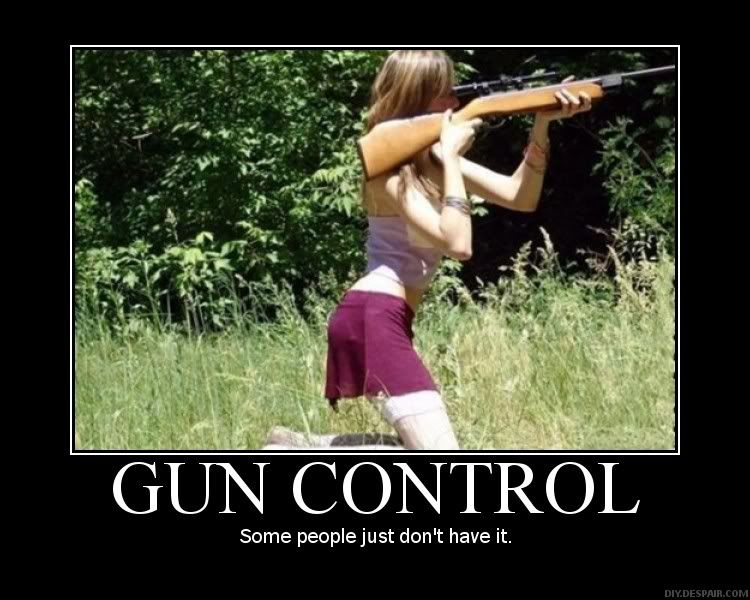 I think if I was pressed for an opinion, though, I'd have to agree with
Chris Rock's opinion
. Forget about gun control. Let them buy as many guns as they want. Just make bullets cost a small fortune. It might not solve all the problems, after all there's always accidents, mistakes, stupidity, but if you made each bullet cost hundreds of dollars, I can guarantee that senseless deaths by firearms would drop significantly.
But don't take what I say too seriously, as I said, I have no real basis for it. It's just an opinion, as ill informed and naive as anyone elses. But to be fair, I think it's just as valid as the other ones being spouted off at the moment.