Today I'm feeling extra old.
No, it's not because my bones are creaking, or I'm having a little trouble seeing the printed page, or even because I'm sitting on my porch and yelling at those damned kids to get off my lawn.
It's because of
this
news article.
What the hell? Since when do kids get divorced?
Okay, okay, I know she's not a kid anymore. She's twenty three, I believe. But it wasn't that long ago that she was a twelve year old, saving Antonio Banderez from strange evil plasticine people! When the hell did she grow up? That was only... okay, it was eleven years ago.
Another celebrity divorce that makes me feel ancient is the oh so famous Tomkat split. She just looks so ... worn out. Here's this girl who I remember watching on TV as a teenager when I was already an adult, and she looks like she was ridden hard and put away wet ... and not in a fun way! I don't feel as old as she looks, but there's a little voice inside my head that keeps whispering, "No, you're older". Seriously though, wasn't she like fifteen just the other day?
That's one of the things that's surprised me about getting older, and it really shouldn't. Everyone always says that time seems to go quicker the older you get, but for some reason it's still taking me by surprise. Every now and then I end up asking myself questions like "When the hell did Sarah Jessica Parker start looking so old?" and "There's no way that Calista Flockhard is really 48 years old!".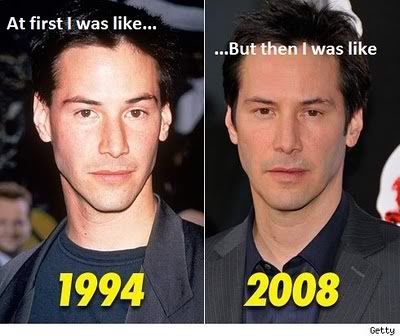 But maybe it's less about me not noticing the passage of time, and more about my unrealistic expectations that famous people will remain the same forever. I guess we're all guilty of it.
But there are a couple of stars who never seem to change, no matter how many years pass. Michelle Pfeiffer is timelessly stunning, Keanu Reeves is like wine, cheese or musicals and just gets better with age (even if his acting doesn't), and, as much as I hate to admit it, Tom Cruise looks pretty damn good for a guy who's fifty. Dude might be as mad as a box of cats, but he's got good genes!
I suppose I can only hope to be as lucky as them in the aging department ... although I could stand to skip the whole go-insane-and-join-a-wacky-religion bit.