I don't think it's any secret by now that I love weird news articles. Honestly, the weirder the better, as far as I'm concerned. If we can't enjoy the lunacy of our fellow man, then what's the point of this kooky shindig we call life, hey?
But even I did a bit of a double take over
this article
.
According to this one, a 28 year old man was arrested for fiddling with himself in public. I know, hardly an eyebrow raiser in this morally depraved age. I'm sure hundreds of people are arrested for the very same thing every week. In fact, I work in a public library, so I'm fairly sure if I checked with security I'd find out that someone had been chucked out in the past week for doing the five knuckle shuffle somewhere on our premises. But the difference with this guy? Well, it lay in what he used to pleasure himself.
Apparently he has now been arrested not once, not twice, but THREE TIMES for masturbating in public with a teddy bear. Yes, you heard me right. A teddy bear!
My childhood is starting to look rather sordid in hindsight.
The first time he was caught showing teddy a good time in a public library (see, I told you), after which he was ordered to stay away from libraries in the area. He must have taken that to mean he was okay to do it in other places, because he was arrested again about nine months later, and then nine months after that! Each and every time he was caught using a stuffed bear as a masturbatory aid.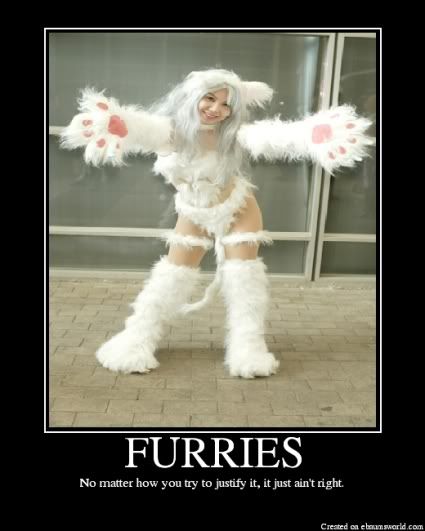 Hmm, I'm seeing a pattern here. Every nine months, he feels compelled to get freaky with a stuffed animal in a public place. Maybe it's some sort of gypsy curse? Kind of like lycanthropy, but instead of getting hairy and howling at the moon you get the sudden urge to hump something fluffy?
Perhaps someone should clue him in to the whole Furries community. There's a whole lot of people out there who'd like nothing more than to dress up like a teddy bear (and other miscellaneous furred creatures) and get funky. He might actually get to have sex with a human being, and think of all the innocent stuffed animals that'd be saved the trauma!
Generally speaking, I'm very much a live-and-let-live kind of gal, but even I have my limits! He can do what he wants to himself, but to abuse a poor defenceless stuffed animal like that! What about the teddy bears!
Will nobody think of the teddy bears!