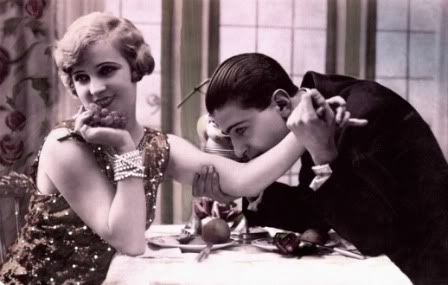 Oh George, I couldn't possibly
before the third date.
Pretty much every woman out there knows of The Rules, the book that purports to tell you exactly how to get the man of your dreams ... in pretty much the most emotionally manipulative way possible. I hate systems like that, guides that tell you if you do this, and say that, and ignore this then you'll fool the guy you like into continuing to go out with you. Sounds oh so romantic, doesn't it.
But did you know that there's a male equivalent? I didn't, until my brother told me about it.
It was when I was visiting Sydney a couple of months ago. I went to see the Harry Potter Exhibit ... yeah, I know, huge geek here ... and Adam flew up to meet me for the day and accompany me. He's such a good brother. After wandering around the Exhibit, where he'd maintained a manly expression of disdain for the benefit of everyone around us, we went back to the hotel I was staying at and set up camp in the bar for the afternoon. That was where I first heard of the Pandora's Box System.
But Muriel, you'd do it
if you loved me!
Apparently a friend had given it to him as he was single at the time, and he was quite taken by the idea. It listed different types of women and what they look for in a partner. Apparently to be successful with the ladies all you had to do was work out which category your paramour fit into and then follow the suggestions given.
And I have to say, after having a read of it ... it's scarily accurate.
The Rules has always been about the woman appealing to some generalised male personality. Men are hunters, so don't try to pursue them but let them chase you. End conversations first. End dates first. Be a mystery. Make them work for it.
Is it any wonder women are sometimes seen as manipulative, heartless shrews?
The Pandora's Box System, though, seems to be based on personality types, kind of like Myers-Briggs. It just takes those personality types and then applies it to what someone in each category might want in a romantic partner. It's kind of genius, actually.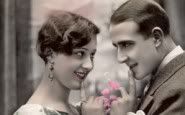 I'm sorry, George, The Rules say
to hold out. And I always follow
The Rules!
It's funny though, when he explained the system to me, my first reaction was to be outraged. How dare men have a secret system in place to fool poor unsuspecting women into loving them! I know, it's completely hypocritical of me. How can I judge them when women buy a ridiculous number of copies of The Rules every year. Given how The Pandora's Box System at least seems to be focused on giving women what they want rather than withholding things from them, I'd say that men are coming out ahead in this moral battle.
Oh, don't get me wrong, it's still completely manipulative and kind of sketchy, I'm just saying if a guy did the things that were listed against my personality type on the guide ... I'd probably fall harder than Wile E Coyote over a cliff.