Now I want to state upfront I'm in no way besmirching the good name of crazy cat ladies everywhere. It's a time honoured tradition which requires dignity, responsibility, and a good resistance to cat allergens. I like to think that I'm well on my way to becoming one of you, at least I will be once I convince Gypsy my feline co-habitator that sharing her couch with a few other kitties wouldn't be the worst thing in the world.
Yes, my cat has her own couch ... shut up!
But when I read
this
article about a woman in Israel whose husband is divorcing her because he couldn't stand living with her cats anymore, I must confess that it made me pause and re-evaluate my plans of crazycatladydom in my twilight years. I know what you're thinking ... why on earth is a guy divorcing his wife just because she has a few cats? Well that's the kicker.
She has over five hundred and fifty of them.
Can you imagine? The food bills! The vet bills! The litter boxes!!! I have a hard enough time keeping up with one fuzzy butted fur ball, I don't even want to imagine the number of man hours that must go into that many cats.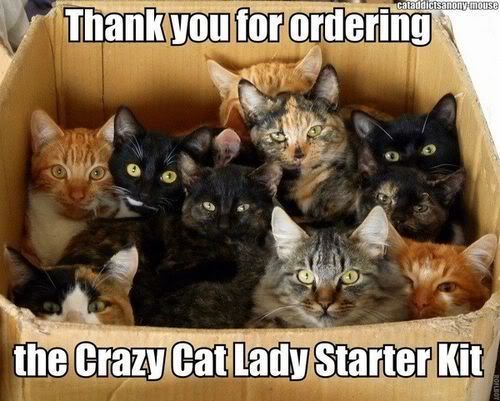 Though to be honest, I have to assume that she had at least some of those cats before he married her so he must have at least had an inkling of what he was getting himself into. He probably thought he could change things, fix her. Sorry, dude, but that's the sort of crazy that doesn't shift. That crazy's stuck on nice and tight.
The thing that really gets me though? I did the math once and worked out how much it costs to own a cat for an approximate life span of 18 years. If you factor in food, litter, vet bills, and other incidentals, it comes to approximately twenty five thousand dollars to own a cat for it's entire lifetime. That comes to around thirteen million that Ms Supercrazycatlady is going to spend on those furry little home wreckers.
Hmm, I wonder if her husband tried THAT argument...