I do love a good movie, and like most of us I have a soft spot for the classics. Those well worn favourites that are so easy to pull out on a rainy Sunday afternoon and get lost in for a few hours.
But quite recently I took a closer look at some of my favourite "family friendly" flicks and noticed a bit of a disturbing trend. Is it just me, or do a lot of them have pretty awful messages hidden inside their saccharin sweetness? Don't believe me? Well lets have a look at a few old chestnuts and see if they can stand up to the Kellie Morality Test!
Sleeping Beauty
I can hear you all now saying "Oh come on, you've already trashed this one! Give the old girl a break!" And you're right, I have had a go at dear old Sleeping Beauty and the less than stellar gender equality lessons contained therein, but cool your jets! I'm not going to rag on Beauty this time.
Oh no, my bone to pick is with the Prince. Okay, I'm going to put this as bluntly and as succinctly as possible. It is NOT okay to go up to a sleeping girl, especially one you barely know, and kiss her. This is not romantic, it's sexual assault.
Grease
I think I was about five the first time I ever watched this one. Of course, all the more questionable teenage angst stuff went straight over my head at the time, but there was one message that I definitely understood which I wouldn't want taught to anyone! Simply put? If you want the boy or girl you like to like you back, then change everything about yourself.
Danny turns himself into a jock to please Sandy, and Sandy turns herself into a skanky ho to please Danny. Sure, it's all sweetness and light the way they portray it, but lets be honest here, that's what they're selling.
Oh, and also that smoking is sexy ... apparently.
The Princess Bride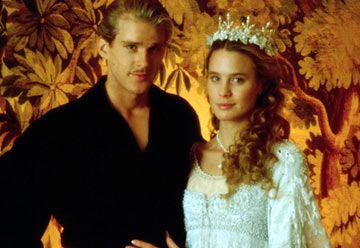 I do love this one, but if I'm going to be completely honest here I have to grudgingly admit that it fits into the category of "bad message movie". And that message seems to be that if you act like a spoilt, unpleasant bitch, the boy you're treating worse than a red headed stepchild will fall in love with you.
Yeah, that's going to be a bit of a shock when you try that particular method out in the real world. Generally speaking, if you act like a bitch to a boy, they're just going to get the hell away from you as quickly as they can.
Ferris Bueller's Day Off
God I love this movie, but lets be honest ... if someone you knew did all the things that Ferris did he'd probably get suspended from school, grounded, and possibly even arrested. Sure he came across as the charismatic hero, all suave smiles and endearing "carpe diem" attitude, but what he really was, once you strip all the charm away, was a little schmuck.
He chucked a sickie, convinced his best friend to let him steal his father's car, snuck his girlfriend out of school, and then drove them all in said stolen car into the city. If you saw that on a rap sheet, you'd be bemoaning the state of today's youth and advocating for bringing back corporal punishment in schools!
But because he's relatively good looking and oozes charm like freaking Cary Grant, he got away with it.
So, what about you guys? Any movies out there that you absolutely love but when you think too hard about their messages they make you cringe?