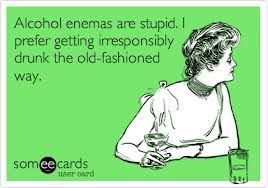 I think most of us did our fair share of drunken carousing in our misspent youths. I know I certainly did. Cocktail parties, as we so elegantly called them, weren't regular occurrences in my social circle, but when we did decide to have one we went all out. Forget beer or wine, we went for lots of different types of spirits in lots of different combinations. Many of those evenings are still a blur to me, but they involved various permutations of drinking games, shot competitions, skinny dipping, cigar smoking, very bad dancing, and karaoke.
Ah, the good old days.
But no matter what we may or may not have done during our evenings of indulgence, I don't think we would ever have considered doing what
this guy did
. Holy mackinoly, it lends new meaning to the Aussie drinking salutation "Up Your Bum".
This takes the drunken college lifestyle to a new level. I know plenty of students who were willing to destroy their livers in pursuit of the ultimate University experience, but I don't know any that would be willing to submit themselves to an alcohol enema. Now THAT'S dedication!
Of course, it's dedication that I'm sure this bloke is regretting. All it got him was a trip to the emergency room and the media chasing him for a quote. Of course it will eventually blow over, but with the internet being the way it is it'll never go away, not really. Jeez, how awful would it be to forever be remembered as that guy who poured alcohol up his bum.
Of course, it's not exactly a new idea. I know there was a woman a few years back who was cleared of murder charges after she gave her husband an alcohol enema and he died. And the Maya (yep, those kooky Mesoamericans who thought the world would end this year) used to use alcohol and drug enemas as part of their religious rites. There's even a very famous figurine showing an Ancient Maya fellow giving himself a "religious" enema.
I remember when they showed us this one in my Ancient Maya class at Uni, it made me giggle for days. He just seems so happy about it!
Still, the kid was okay in the end, no one died, and everyone learned a very important lesson. The College learned that students will do almost anything to get drunk, the kid learned that he should be careful about what he lets people put in his backside, and the fraternity members learned that when you give someone an enema, be it alcohol or otherwise, eventually the recipient will have to expel it and drunk people generally don't have the best control.
And me? Well, I learned that expressions like "butt-chugging" can make me fall of the couch in fits of laughter.