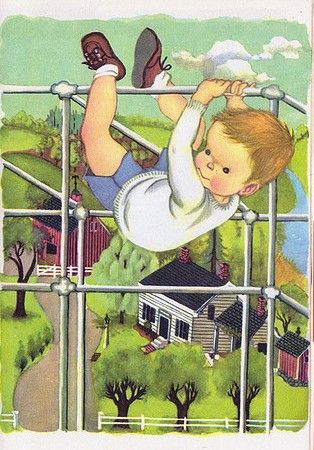 I think it's finally happening. I've seen the warning signs for a while now, a fondness for antique shows, a tendency to scold drivers who go even a kilometre over the speed limit, a desire to say things like "When I was young" and "Back in my day". Yeah, I can't avoid the awful truth any longer.
I'm getting old.
But I think this really hit home when I was reading
this article
, an editorial written by a father whose darling daughter had broken her arm falling off the monkey bars. Of course, as you'd expect in this day and age, the article was mostly about whether monkey bars were tools of Satan, sent to us to break our children's bones and traumatise those who can't make it all the way across by making them feel inferior to all their little playmates.
Okay, fine, maybe that second bit is just me over identifying. Bloody monkey bars, I never could navigate them.
So even though I'd have expect my response to be agreement, if only in retribution for the indignities suffered in my youth, there was something about the whole article that just irked me for some reason. Was it that I was turning into one of those people who is constantly bemoaning today's cotton wool generation?
No, that wasn't it. In fact, when I considered it carefully I realised I had absolutely no opinion on monkey bars and the danger therein. That's not what was getting stuck in my craw.
It was the math.
My father told me once that you shouldn't trust statistics because they're god damned liars. Okay, he didn't use that exact phrase, but that's what he meant. Statistics are the most useful, and the most useless form of mathematics out there. You can make them say pretty much anything you want them to, if you know how to present them right.
And that's exactly what this fellow did.
In it he said that he asked a doctor at a children's hospital how many kids break their bones falling from monkey bars, and was given the answer of 15 to 20%. Now, at first glance that seems like a ridiculously high percentage. If that many kids are hurting themselves on those tools of the devil, then why don't we rip them out post haste?
But that's the thing, it wasn't 15 to 20% of kids, it was 15 to 20% of kids
who break a bone
do it on monkey bars. That's a whole other kettle of fish! That could be as few as one kid out of a total of five broken bones, or as many as two hundred out of a thousand. The point is, we don't know because he didn't bother getting that information!
I work in a finance position, and I spend a good proportion of my day working with statistics, so I know how easy it is to twist them one way or the other, and that's just what happened here. The statistics were presented in a way that supported his argument, and no doubt resulted in hordes of parents all carrying pitchforks and torches, pulling down monkey bars with their bare hands.
So I guess that's the answer then. It's not that I'm getting old, it's just that I'm a math geek who can't stand people manipulating stats for their own benefit.
Damn, I was looking forward to yelling at kids to get off my lawn.