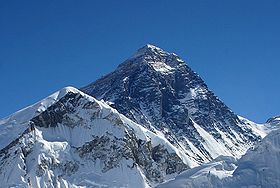 200 dead bodies ... the creepiest
Where's Wally ever!
Those of you who are even a little bit familiar with my strangeness will know that I can sometimes lean a little bit towards the macabre. As much as I hate to admit it, I've spent my fair share of time imagining up the
perfect funeral
and final resting place for myself.
I've always imagined a nice, quiet plot somewhere on a hilltop with lots of trees and a nice view. Something classic. Perhaps a nice limestone grave marker with a few nice words about what a wonderful human being I was and how everyone was just beside themselves when I unfortunately passed away rescuing that basket of puppies from a runaway combine harvester.
But one scenario that I didn't consider ... that didn't even cross my morbid little mind ... was that I could end up at a popsicle on a mountainside being used as a glorified "THIS WAY" sign. But apparently if you decide to climb Mt Everest, that's a real risk you face.
According to
this article
on the Smithsonian website, climbers who perish on the mountain in their attempt to get to the top are just left there. Currently there are over 200 bodies just lying up there. I suppose I can understand that. It's hard enough for people to get up there at all, it'd be impossible to go up and fetch down all the unlucky ones. But I have to admit I was more than a little bit perturbed to find out that some of those bodies are actually being used by other hikers as landmarks to show that they're still on the right path.
Personally though, I'm not sure how I'd feel if not only was someone I knew and loved lying dead on a mountain, but he also had random people just wandering past his frozen corpse on a daily basis. Then again, I'm not a mountain climber. For all I know, it might be the highest honour one can achieve in the field. To stand for all eternity, guiding the way for like minded brethren.
It made me wonder if perhaps there was a better use for my body after my regrettable lorry-truck-kindergarten-class-rescue demise. After much deliberation ... and by much deliberation, I mean three glasses of wine and a ten minute googlefest ... I've decided any of the following will be acceptable.
Eternal Reef: Imagine being able to spend eternity as a part of a coral reef. This company takes your cremated remains, mixes them with concrete then deposits it in the ocean so coral will grow over it. Imagine all the pretty fishies that'll come to swim around your dead body! People pay a fortune to go diving to look at shit like that, so what better way of spending your afterlife?
Burial in Space: Like all good Trekkies, I had to include this one in my options! Space, the final frontier! To boldly go where only a few other stupidly rich dead people have gone before ... into the vacuum of space!
LifeGem: I've always like to think I was a gem ... and now in my afterlife I can literally be one! These guys take your cremated remains and turn them into simulated precious stone. Think about it, you could spend eternity as a ring, a pendant ... personally, I'm plumping for a tiara. I am rather partial to a grouse tiara!
Yep, I'm putting the "fun" back into funeral!