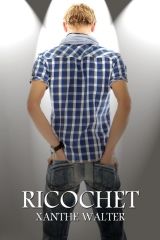 The Hat Of Fate has spoken, and the winners of the two e-copies of "Ricochet" by Xanthe Walter are Sarah at
Misfits Vintage
and Kianwi at
Simply She Goes
!
Congrats, guys! You're going to love it!
I'll email you the link to go download your book, have fun over the Christmas break with your naughty, saucy, rumpty pumpty adult type novel!
Wow, I'm really talking up the erotica factor, aren't I ... and for some reason sounding more than a little like Benny Hill while doing it.
Don't worry, it's a real book with real storylines and everything, not just a bunch of highly unlikely sexual encounters strung together by even more unlikely plot contrivances. If you're anything like me you'll be half in love with at least four of the characters by the time you're finished it.
And for anyone else who's curious, and over the age of 18, you can go read the first 14 chapters of "Ricochet"
here
!
Ah, just call me smutty Santa. Santa Smut? Smutty Claus?
Wow, this alter ego thing is hard. I don't know how Clark Kent does it.