Disclaimer: Today's post is going to be about adult books. Yep, that's right, it's going to include a giveaway of naughty, saucy, completely inappropriate novels for those under the age of 18 or those of a modest nature ... okay, so maybe I'm exaggerating a tad, but I just thought I'd err on the side of caution. Proceed at your own peril. Here be dragons ... or at least erotic literature. Just don't say I didn't warn you!
I'm just going to come out and say it. We're all friends here, we can support each other in these trying times. So, here goes ... I didn't like Fifty Shades Of Grey.
Yeah, I know.
It's incredibly frustrating, because I really, really wanted to like it! I remember back when I still used to work with the books at the library, we'd play a game during shelving. If one of us were lucky enough to come across a Black Lace novel on our trolley, we had to open it randomly at three different pages and read something out. It was almost guaranteed that at least two of the three would be something salacious.

Trust me, nothing makes shelving time go faster than talk of heaving breasts and throbbing manhoods.

But no matter how hard I tried to like Fifty Shades, I just couldn't overlook the first person present tense, the blatant irresponsibility shown by the characters, or the overuse of certain exclamations.


So disappointing! It's no Story of O, that's for sure.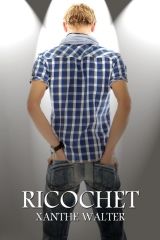 I much preferred Xanthe Walter's
"Ricochet"
which I just finished the other day.
I actually feel kind of bad comparing it to Fifty Shades at all, they really are like chalk and cheese. Xanthe's book gives the reader a healthy, much more realistic picture of a power exchange relationship, something which is definitely lacking in even some of the well written novels of the genre.

I love the way she writes her characters. They have more than two dimensions, and they aren't defined by their sexual "dynamic". And perhaps even more importantly, the story is a damned good one! She doesn't rely on the titillation factor to keep her audience interested.
Here Xanthe sums up her book in her own words, to give you guys an idea of what it's about.
Ricochet

is my first original character novel set in the BDSM universe I created in my fanfiction writing. This is a universe where everyone is bisexual, everyone identifies as dom, sub or switch, and BDSM relationships are the norm.
Matt is an actor on a hit TV show, who struggles when he hears about an upcoming plot line for his character involving the kind of sexual experimentation that he is scared of trying for himself. Matt has never experienced his own subspace, and longs to be able to let go of his anxiety and OCD behaviour for long enough to enjoy his sexuality.
Rick is his co-star, a larger-than-life character who is scared of his dom side – for good reason – and skates the surface of his sexual identity, mistaking quantity of sexual experience for quality, and never allowing a sub to get too close, in case he hurts them.

This is a dom who doesn't trust himself – so how can he ask a sub to trust him?
They are a traditional 'odd couple', who bicker, tease and play-fight without realizing they are crazy in love with each other – something that is obvious to all around them!
During the course of the novel they go on a journey, and they both have to confront parts of themselves that make them uncomfortable, and overcome various personal challenges.
There is a colourful cast of supporting characters too – plus a couple of bad guys who make sure that the course of true love doesn't run too smoothly!
You can find out more about Ricochet (and read the first fourteen chapters!) on my website at www.xanthewalter.com.
So, in honour of the Silly Season, I've decided to give away two electronic copies of Ricochet. The lucky winners will get a code that they can enter over at
Smashwords
to claim their copy. It's available in just about every format you can imagine, including ePub, PDF and word documents, so no matter how you want to read it you'll be able to.
If you'd like to go into the Hat of Fate for the chance to win one of these copies, just leave a comment on this post! I'll be drawing the winners on Saturday 22nd December at 10AM AEST, which I believe is Friday 21st December 7pm in New York. This one is only for those over 18 though, I'm afraid, so no no entering if you're under that age.
Good lucky, guys! Happy Kinkmas ... I mean Christmas!