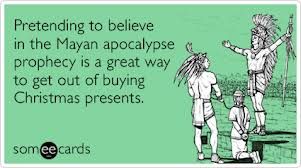 It's almost time, folks! The Apocalypse is only hours away, so it's time for us to start getting our plan ready.
What plan, you ask?
Well, if you've been visiting me for a while you may recall
a post I made
back in September where I came up with a game plan for the Mayan Apocalypse. Go on and read it, we'll all wait.
All done? Good.
So, are we all agreed? From this point on, we all act like the Apocalypse happened. The next generation are never going to know it's all a pack of thinly veiled lies, provided we all stick to the game plan. So in preparation for this, I think it would be a good idea if we all prepared a little.
Come up with your stories before hand, or at least some bullet points you can refer to, so you're ready when sceptical youngsters start to question you about what really happened. Remember, there's no such thing as too outlandish. You survived the freaking Apocalypse! If you want to say you single handedly mowed down fifteen zombies with a hot wired SUV, you go right ahead.
Purposely hurting yourself just for the sake of having battle scars is a bit extreme, but by all means come up with some explanations for the ones you already have. I've got a scar on the back of my ankle, the result of an unfortunate leg-shaving incident, which I'll be telling people came from a run in with a dismembered zombie who clung to my leg with one hand while dragging his severed lower body with the other. It's a beautiful image, isn't it.
It probably wouldn't hurt if you started perfecting your PTSD responses now. Practice your haunted, tortured look in the mirror to get just the right amount of angst showing in your eyes. Try out expressions like "I tried to get to her, tried to get her out, but I just wasn't fast enough" and "At night I can still hear the screaming". If that doesn't work for you, just go with something like "Sarah? I knew a Sarah once ... back before..." then sigh deeply. You can't go wrong with the classics.
Okay then, I think we're ready!
By the way,
don't forget to go enter my Silly Season Giveaway
for an e-copy of Xanthe Walter's new novel "Ricochet"!