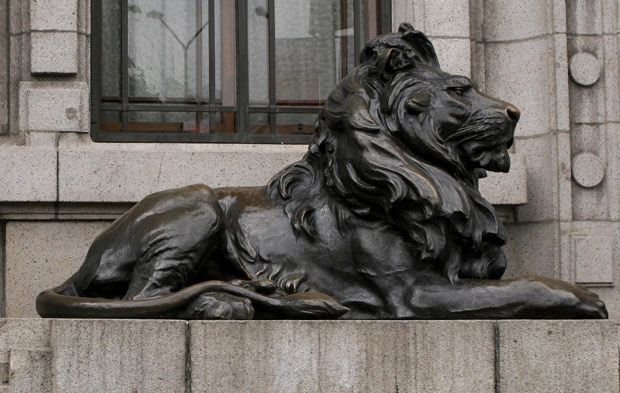 Really? This is what you choose
to get arrested over?
It's a tale of forbidden love. Two souls, forever entwined, but cruelly kept apart by the harsh judgement of society. Forced to meet clandestinely in the dark of night, only able to steal brief moments of comfort in each other's company and arms.
Well, when I say arms, I mean one set of arms and one set of immovable bronze paws. The love of a man for his bronze lion statue is epic, epic I tell you!
Surely she's a much more
attractive option!
So it seems that there is a young Austrian man somewhere in Russe, Bulgaria who was arrested the other day
for having sex with a bronze statue of a lion in public
. Hmm, does that mean that if he'd done it in private they wouldn't have had a problem with it? I suppose that's true, people have sex with inanimate objects all the time.
But it does make you wonder just why he thought THAT particular statue would be a good self pleasuring device. There doesn't seem anything particularly sexy about it. I mean, if he was going to get jiggy with a metal effigy, surely he could have found a nice bronze man or woman (whichever his preference) and then had his romantic liason.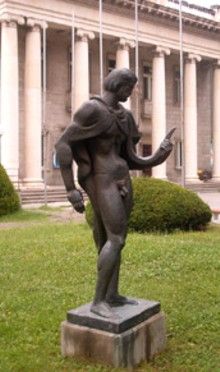 Well, at least you know
what you're getting.
A quick Google search shows that there are plenty of other options in the town of Russe if you're determined to feel cool metal or stone under your wandering fingertips. What about the girl above? She's young, pretty and her hand is very strategically placed if you get what I mean! *nudge nudge wink wink*
Or, if your tastes lean towards the male of the species, how about our friend to the left? He's quite the strapping lad, although he seems to have forgotten his trousers. Actually, now that I think about it, that hair cut kind of makes him look like
He-Man
. I guess if you're into 80's cartoon heroes it could work...
But perhaps I'm pushing our Austrian friend too hard to find a human shaped inanimate partner. Maybe he just wanted to do it like they do on the Discovery Channel.
Sorry, I couldn't resist.