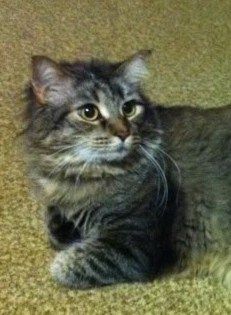 *Walks into the living room*
Me: Gypsy, where are you?
Gypsy the Feline Dictator: Behold, puny human! I am the mistress of all I purvey!
Me: What the ... how the hell did you get up there?
Gypsy the Feline Dictator: It is a thrilling tale, not for the faint of heart.
Me: No seriously, how the hell? You fall when you're trying to jump on the couch!
Gypsy the Feline Dictator: When I spotted the great Mount Roomdivider during my bi-hourly patrol through the living room, I knew that it was something I had to conquer.
Me: ... it's not even near the bench...
Gypsy the Feline Dictator: So I prayed to the Cat God, His Holiness Tiddles, and asked him to give me the strength to reach the summit.
Me: ... didn't even break the lamp...
Gypsy the Feline Dictator: I felt myself become imbued with the power of the Cat God. Energised with his holy light, I leapt at Mount Roomdivider, clawing my way up inch by torturous inch.
Me: ... bloody six feet tall ...
Gypsy the Feline Dictator: Finally, after much struggling, and several perilous near misses, I finally reached the summit. It was a great day for felinekind! Now, assist me back to terra firma, peon!
Me: ... you know what? I don't want to know. You want to be on top of the room divider, you knock yourself out. I'm sure you'll come down when you're ready.
Gypsy the Feline Dictator: No, wait ... where are you going ... come back here, human! GET ME DOWN AND GIVE ME CHICKEN!!!
I'm still not sure how she got up there. Seriously, she can't even jump onto the kitchen bench without assistance, and she falls off the couch about fifty percent of the time. I'm just going to go with the assumption that I now have a poltergeist that likes to place my cat in random unusual locations.