I just love The Brady Bunch. Do you guys remember that episode where Greg hit Marcia in the nose with a football? Or the one where Peter beat up a bully for teasing Cindy about her lisp? Or the one where Carol and Jan smoked methamphetamine together?
Wait, you mean that didn't happen in The Brady Bunch?
Oh, then it must have been from
that news story I was reading
about a woman who thought it was a smashing idea to regularly sit down with her 13 year old daughter and smoke some crystal meth. Still, I'm sure you can understand my mistake. After all, we all know that Carol Brady was the perfect mother, and this woman is obviously in the running for parent of the year.
You hear plenty of stories about people who are just awful parents. Abuse and neglect are far too common, considering how advanced our society is. But when I read about something like this, something that shows just how far some people will go to inflict their frankly reprehensible lifestyle onto their kids, it makes me so furious!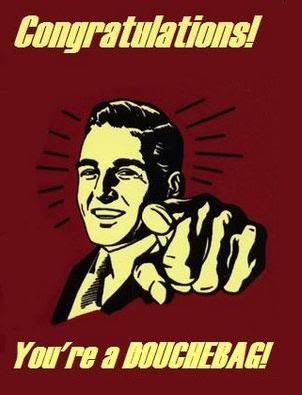 I'd like to think that, in some twisted way, she was doing it in an attempt to bond with her daughter like she claimed, but I'm really not that naive. Her life was toxic, and rather than stepping up as a parent and doing what she needed to do to make sure her daughter wasn't hurt by her choices, she just handed over the drugs and tried to draw her kid in too. Misery loves company, I guess.
So I'd like to congratulate this sterling example of parenthood, you are the lucky recipient of my Douchebag Of The Week award! Congratulations, your complete lack of care for your child's health, well being, state of mind, and future has earned you this very prestigious accolade.
Seriously, lady, haven't you ever heard of milk and cookies?
That's
what you're supposed to share with your kids, not incredibly hard drugs!