I think I need to call the Vatican, because I'm pretty sure I just witnessed a miracle in my kitchen.
Of course I can't be sure, I'm no expert in these things. A couple of years of Catholic pre-school and the odd Easter service hardly qualifies me for this sort of decision. But considering the unlikeliness of this happening, I'm going to go with divine intervention.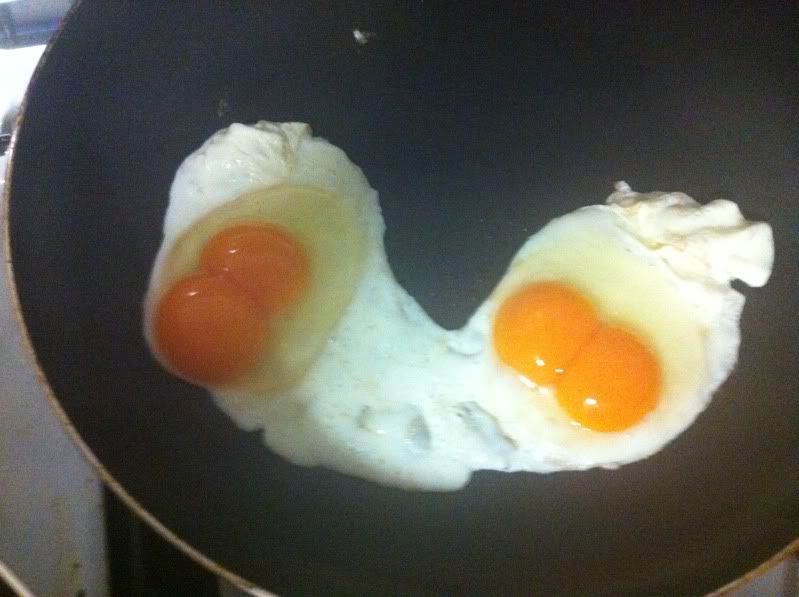 Yep, not just one but TWO double yolkers!
It's an abundance of riches! I'm actually embarrassed by the generosity of the chicken that laid them. It almost seems a shame to eat them.
But maybe I should hold off before having it declared a miracle. If I'm not careful, I could end up a Saint or something! I don't have any objections to it per se, but I'm not sure if I'd be a good choice for it. I really don't have the cheek bones to carry off a stained glass portrait.
And I have to be honest, I think I'd get sick of the pilgrims after a while. I'm sure I'd try to be hospitable, but there's only so many glasses of savings brand cola you can offer before you start to get a little testy about having your kitchen overrun by religious travellers. What with all the genuflecting and the asking for blessings and the stealing kitchen implements to take home as religious souvenirs.
As for the responsibility involved, I don't think I'm up to it. Aren't Saints supposed to be models of moral decorum and religious peace? Aren't they supposed to smile calmly and give vague, non-committal answers to questions? I'm pretty sure I'd have a hard time keeping a straight face, and I don't think the Vatican wants a Saint that is continually saying "Oh, I'm a Pagan. I don't believe in all that Bible stuff. It's an interesting read, but it totally sucks as a primary historical source".
Perhaps it's best if we just keep this between us, hmm? But I promise, if I find myself walking on water or raising the dead or anything like that, I'll make sure to let you all know.