I love Harry Potter. It's like the great equaliser. No matter who you are, or what walk of life you're from, you've probably got at least a passing knowledge of the stories. I can go up to anyone, even if I haven't met them before, and ask them, "Which did you prefer, Prisoner of Azkaban or Goblet of Fire", and wham, I've made a new best friend as we discuss the pros and cons of Sirius Black versus Cedric Diggory. But there's a point about these books that I find myself constantly disagreeing with everyone else.
In my opinion, the Harry Potter novels have the most vile bad guy in them of all time.
I know what you're thinking. You're wondering why this is such a scandalous thing for me to believe. After all, I'd hardly be the only one in the world to believe that Lord Voldemort was with worst of the worst. Ah, but therein lies the rub! You see, I DON'T think Voldemort is the worst of villians.
In fact, I'd have to say that as far as bad guys go, he's pretty pedestrian. Sure, he likes to kill people, and sure, he's out for world domination, but that's fairly standard when it comes to that demographic. Lets be honest, if he didn't have at least one of these goals in his resume, we'd think him a pretty crap evil dude. Even so, there's another character in Harry Potter who I think was much, much worse than old Mouldyshorts.
Albus Dumbledore.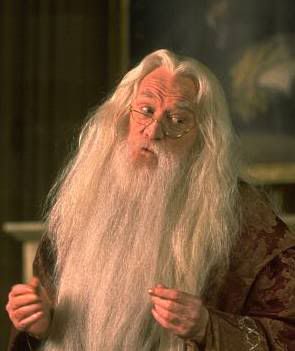 Is this the face of evil?
Now, before you start getting all twitterpated and asking me what in tarnation I think I'm doing, accusing one of the greatest wizards of our age of being evil, I'd like you to think for a few minutes on his actions over the course of the books. Hell, over the course of Harry's whole life! The man has been ... shall we say a little negligent?
Lets look at the facts, hmm? Dumbledore takes a baby whose just been orphaned and, knowing full well that he'll be at best neglected, at worst abused, leaves him on the doorstep of his magic-phobic Aunt and Uncle. He does this not because he thinks that they'll take care of the baby, but because he knows he can build blood wards around the house and he wants to keep the baby alive. Again, not out of any love for the kid, but because he knows that Mouldyshorts isn't really dead and he's going to need that kid sometime in the future. After all, you've got to protect your assets.
Then he leaves the boy there for ten years, not once seeming to notice or care that the kid is growing up in an emotionally abusive household where he's treated like he doesn't matter at all. In fact, I'd even go so far as to assume that was his intention all along. After all, we all know how this story ends. If you're grooming a kid to be willing to kill themselves on demand, you'd better make damned sure they think they're worth less than everyone else or they might just up and refuse when the time comes.
Then, when the boy turns eleven, you whisk him off to the world of witches and wizards. Make sure he's overwhelmed with the thrill of it all and showered with friendship and admiration. But don't forget to stick him back in that hell hole every Summer so he can be well and truly squashed again before you swoop back in and release him just before the start of the new school year. After all, you want him to feel pathetically grateful, all the better for making sure he'll be a good sacrificial lamb when the time comes.
Lather, rinse, repeat at least seven times.
Oh, and don't forget during those seven years to turn a blind eye to glaringly dangerous situations that crop up in the castle. In fact, why not prod the kid in their direction and see how he holds up. Best way to see how he's coming along, and who cares if you endanger hundreds of other kids in the process. After all, it's all for the greater good.
And it doesn't hurt if you show the kid a little familial affection. Be the doting grandparent he never had. Hell, he's never had any parental care, so he'll lap it up. By the end of it, he'll be willing to do anything you say is necessary, even if that's walking in front of a loaded wand.
Then at the end of all that you should have a well trained human sacrifice, willing to march himself out and offer himself up because, after all, he loves these people, and it's not like he's worth a damn to anyone.
Oh yeah, Dumbledore's a real prince.