You know it might be a bit naive of me, but I like to think that as a species we're getting better with the whole racism thing. Sure, we still like to kill each other over things like who has the best toys and whose imaginary friend in the sky is cooler/scarier/kinder, but we do seem to have gotten a bit better about the senseless bigotry based on nothing more than a physical trait like skin colour or eye shape.
And then I go and read
something like this
, and I realise that from time to time we're still as dumb as rocks.
Every year when the little kiddies are sent off to their first year of school you could reasonably assume that the worst problem they'll have to face is if they know where the bathroom is, whether their Mum packed them the good stuff for recess, and who's going to get first turn on the swings. At least, that's how it should be.
One thing they shouldn't have to worry about is whether they're being discriminated against because of their skin colour!
As unbelievable as it sounds, it would seem that a school in New York made the questionable decision to divide their kiddies up into different kindergarten classes based on their skin colour. Yep, you heard me right, they took a bunch of five year olds and split them up into white and not-white.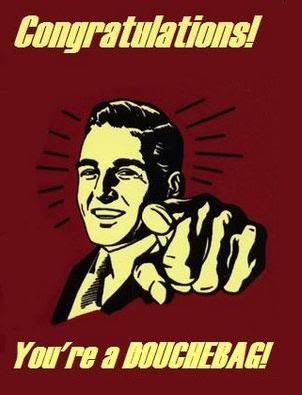 What the hell! I thought we were done with shit like this years ago! Those kids are going to find plenty of reasons to hate their fellow man when they grow up, they don't need stupid, pointless prejudices instilled in them as well!
At first the school did the usual "Segregation? What segregation! I know not of this segregation of which you speak!" schtick, but after an investigation found that for at least the past two years they've been splitting the kids up based on ethnicity, they really didn't have a leg to stand on. I believe they've cut a deal and are going to be monitored for the next couple of years, but that hardly seems good enough, does it.
So I'd like to offer my highly illustrious Douchebag Award to the school that thought it was appropriate to teach five year olds that judging people by how they look is okay. Congratulations on your attempt to set the civil rights movement back by fifty year.