A dramatic re-enactment
of Gary looking for the ring.
I'm a bit of a wimp when it comes to dealing with anything icky. If it's squishy, smelly, slimy or sticky, I'm pretty much guaranteed to take ludicrous measures to make sure I don't have to touch it with my bare hands. You'd be surprised just how easy it is to make an emergency pair of plastic gloves out of a couple of zip lock bags, and the number of perfectly good Tupperware containers I've thrown out rather than clean out their contents ... well, I could quite easily have funded my Baskin & Robins Rocky Road addiction with the savings if I didn't have to keep buying replacements.
So I've got to give full props to
Gary Gaddist, a rubbish man in New York
, who voluntarily went and hunted through mountains of refuse so he could find a woman's lost diamond ring. How sweet is that! He didn't even know her, and he was willing to rifle through bag after bag of other people's rotting takeaway, festering nappies and god knows what else, just so he could get back the diamond ring her husband gave her.
You, Garry, are an awesome person! And as such, I'd like to offer you the Official Seal of Awesomeness! I fully believe that behaviour like this should be encouraged, if for no other reason than that I'm selfish. If other people are doing things like this, it mean I don't have to.
See, I like to think I'm a pretty good person, but I don't think I could be that selfless. Sure, I'd sympathise with the woman, I'd feel bad for her, but I'd probably leave it at that. I don't think I'd actually volunteer to hunt through all that bacterial laden garbage on the very slim chance that I might, possibly, if I'm really really lucky, get her ring back for her. There ain't enough anti-bacterial wipes in the world to make that happen!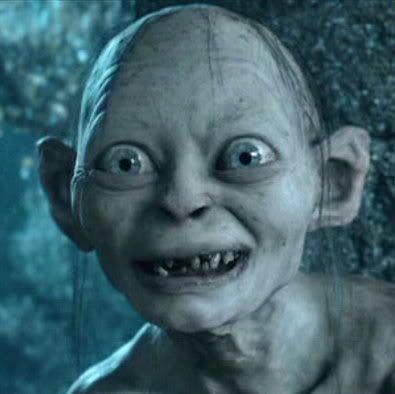 He found the precious!
Still, just because I'm an awful, selfish human being with little interest in making sacrifices for strangers, doesn't mean good old Gary didn't step up and do what needed to be done! When asked why he bothered, he said it was because he could see how much the woman loved her husband. Aww, selfless AND a romantic! If it wasn't for the persistent odour and the threat of e-coli, I might even say he was quite the catch.
1.
But all this talk of lost rings and searching reminds me of something ... I can't help wondering if he scampered around that rubbish tip looking for the ring, rifling through the piles, muttering, "The precious! We must finds the precious!"
I really, really hope he did.
1. I'd like to state that this comment was made for comedic effect. I'm sure Gary is delightfully scented and completely bacteria free.