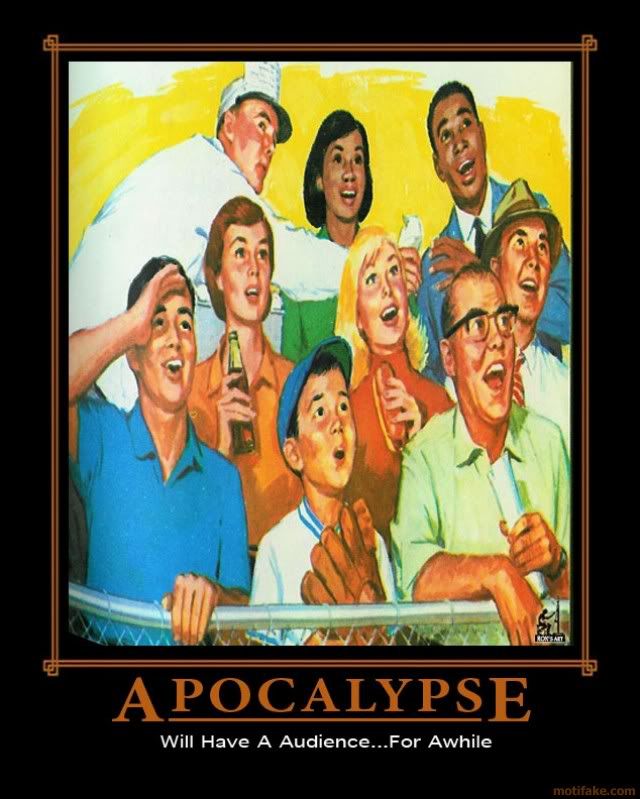 Today I was meandering around Tumblr (as is my wont) and I stumbled across a little comment that got me thinking. It was short, only a few lines, but the idea was so genius I couldn't just scroll past it like I do all the other posts of adorable kittens an how cute Benedict Cumberbatch is. So in true visionary style I've decided to implement their idea, and I'm recruiting you all to help me.
As we all know, the world is supposed to end this year. It's a bit of a shame, but it's had a good run. Four and a half billion years is pretty good innings, even for a planet. But like all of the doomsday/apocalypse/cataclysm predictions, there's always the chance that it'll turn out to be a dud.
How many times have you watched as some religious nut declared that the world was going to come to an end at three seventeen in the morning on the eleventy seventh of the month and then proceed to give away all his worldly goods in preparation for the space ships arriving to take him away? Yeah, far too many to not take these predictions with a grain of salt.
Still, this one is from the Maya's rather than some weird guy about two weeks overdue for a bath and living in a shack in the middle of nowhere. That lends it a little more gravitas than the others. But even so, we all know it probably ain't gonna happen.
But that doesn't mean we can't pretend it did anyway!
Seriously, think about it. Anyone born after 2012 isn't going to know differently as long as we're all telling the same story, so here's the plan. As far as we're all concerned, it happened. The dead rose from the grave, demons attacked, cities were levelled, and in true heroic fashion we defeated them all and came out victorious. I'll be like Independence Day, but with far less Will Smith ... which can only be a good thing in my books.
But if we're going to make this work, we've got to start planning now. Come up with our stories of heroism and daring deeds! That crater in the vacant lot down the road where they started to build a house and then gave up before they'd even laid the foundations? Now that's where an alien ship landed during the first wave of invasion! The scar on your leg from falling off a bike when you were twelve? Now it's from the three zombies you fought off outside the 7-11 while gathering supplies.
And if anyone decides not to play along and tries to tell the future generations the truth, we'll just put it down to post traumatic stress. Those poor people, suppressing the awful truth. Seriously, I think if we can just get our stories straight and do a little bit of forward planning, we can do this!
After all, worked for the moon landing.