Hello, you gorgeous, gorgeous people you!
Today is a momentous day, my friends. Today, I post my 100th entry! Who knew, back in May when I decided to start blogging again that I'd actually have the self control and determination to keep going, let alone to reach 100 entries! Go me!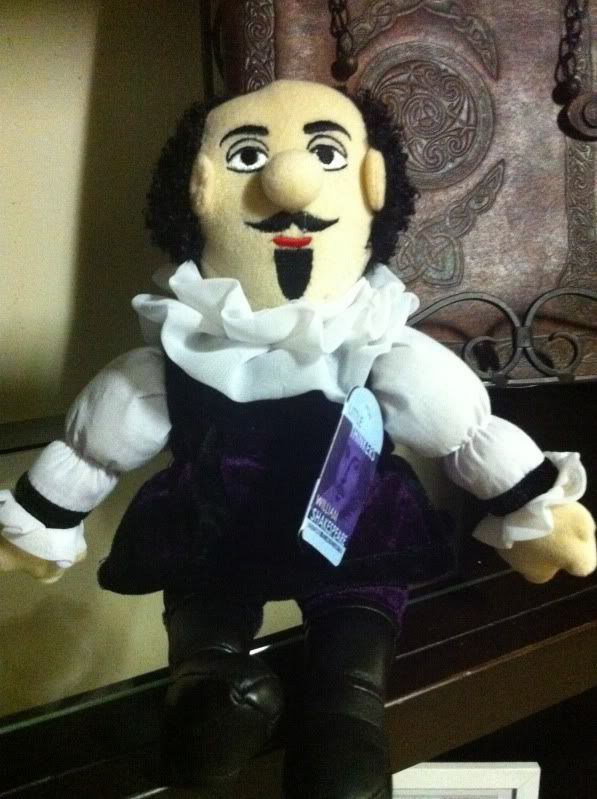 So, to thank you all for keeping me company while I ramble about whatever happens to cross my easily distracted mind I've decided that a givaway is in order. I'd like to introduce you all to William Blogspeare, and one of you lucky, lucky little people are going to get to call him your own!
Like all literary minded people, I'm a sucker for writing related giftwares, and when I saw this guy I just couldn't resist. I mean seriously, who WOULDN'T want a William Shakespeare doll that looks like a Sesame Street character! He could be a muse, a mascot, or just a provider of sympathetic hugs for those days when the writer's block is extra nasty.
They make these Little Thinker dolls in the shape of all sorts of famous writers, poets, philosophers and speakers. You can get Oscar Wilde, Jane Austen, Virginia Woolfe, Sigmund Freud, Emily Dickinson, and heaps more. I got Will from
here
.
The giveaway is open to everyone regardless of where you live, and I'll contact the lucky winner to get their postal address once they've been selected. So if you'd like the chance to give old Will a home, just leave a comment and I'll randomly draw someone from the hat of fate! All comments up to 10am on Friday 14th AEST will be included (that's 8pm Thursday 13th in New York, I believe).
And thank you, guys. Without you all I'd just be a crazy woman talking to herself ... not that I'm NOT a crazy woman, of course, I just get to share my insanity with all of you.