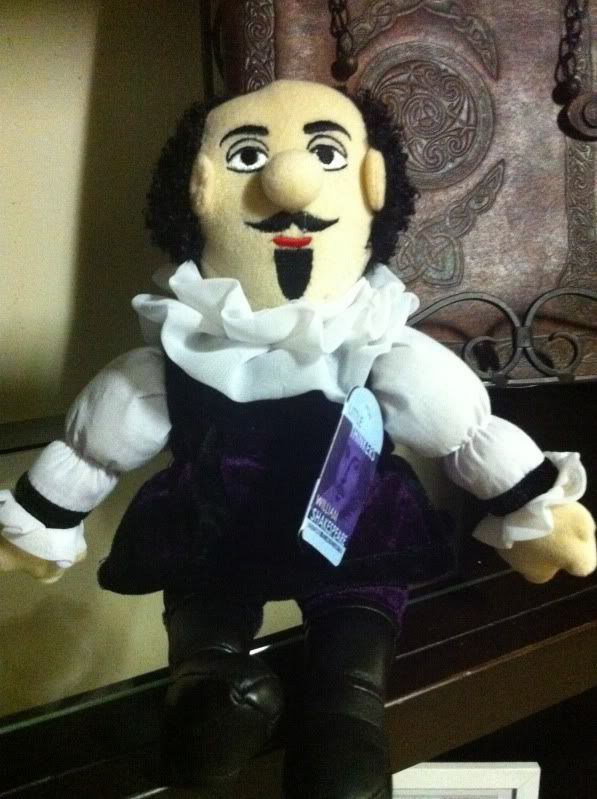 Well the entries are in, the hat of fate has fulfilled it's random-entry-selecting obligations, and a winner has been chosen. Huzzah! And just to show how generous and giving my readers are, the winning entry was from
Vapid Vixen
, who has opted to give her entry to someone else! Isn't she a sweetheart? It's people like her that make this crazy blogging thing worthwhile.
Here is what her comment said.
"... Also, if we're allowed to vote for who gets the puppet? I'm voting Pickleope. He'd make it into an entire, maniacally convoluted post about ... rape-y dolphins? Dunno. You'd have to ask him..."
So there you go, courtesy of Vapid Vixen, our winner of the Little Thinker William Shakespeare doll (or Ol' Billy Shakes, as I believe he will be known from now on) is
Pickleope
! Congratulations Pickleope, you lucky devil you! If you send me your postal address Ol' Billy Shakes will be winging his way to you very soon!
Oh Billy, how I'm going to miss your little embroidered face. I do love a man who can carry off one of those funny pointed beards and a curly up moustache. But you're going to a good home, Pickleope will take good care of you. I'm sure he'll keep you out of sunlight, never get you wet, and never ever feed you after midnight.
What's that Billy? You're not a gremlin? I know, you don't have the ears and you're nowhere near as cute. But even so, it doesn't hurt to be cautious.