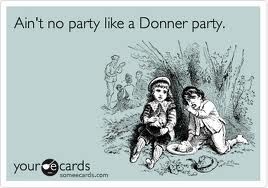 I suppose it's my own fault. I'm the one that voluntarily sat down in front of that television set at midday and turned onto a channel I knew would have a movie on. There's no one else to blame for the emotional scars.
A bunch of pioneers, all of them talking earnestly about how they needed to get to California. I expected the usual drama and angst. The odd person falling off a precipice, an Indian attack or two, just the usual. But I wasn't prepared for what it turned into.
About three quarters of an hour into the film the band of people split up into two, one group going one way and another going a more risky route. When they named themselves the Donner Party, cold dread filled my heart. I couldn't remember why I knew that name, but I knew it wasn't because they went on a rollicking road trip adventure that resulted in life lessons learned and unbreakable vows of friendship.
As the movie progressed, I began to get a few clues as to why the name sounded so familiar. Snow, blizzards, trapped in a cabin, nothing to eat. Oh my god! This was the story about that group who had to turn to cannibalism to survive!
But it was too late to switch off. I was already trapped in the film. I had to see the end otherwise I'd always wonder how it finished. So I sat there for another hour watching as they got snowed in, slowly starved, then chowed down on their dead friend like he was a Happy Meal.
The fact that it was based on a true story, that it actually happened, is bad enough. But why did I have to live through it via a badly acted midday movie?

Haven't I suffered enough?