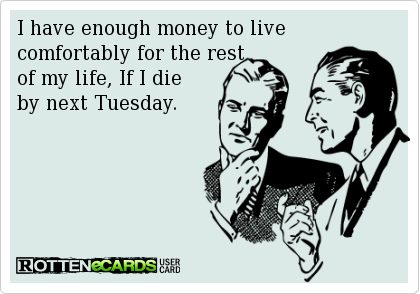 I only made one New Years resolution this year (and yes, I know
I said I wasn't going to
, but peer pressure's a bitch) and that was to try and not waste money. I like to think I'm doing okay with it so far, I've managed to cut a few expenses out of my budget that I didn't really need.
But if I ever get to the point where I'm acting
like this woman
, would one of you please shoot me and put me out of my misery?
Because as much as I'd like to not spend money I don't have to, I also don't want to become like the woman in this article who thinks it's okay to steal roles of loo paper from public toilets to save herself a buck. Or to send her kids to school with stationery supplies pinched from places that have them out available for use to their customers. Or to make her family sit around in the cold rather than turn the heating on.
Sweetheart, I can see where you're coming from. It costs a lot to live in the depraved modern age. It's practically impossible for a family to live on one income ... unless of course that income is enormous. But is it really necessary to reuse aluminium foil? Or wash out sandwich bags? Or recycle a tea bag three times?
What's next, saving on electricity by running an extension cord next door? On food by optimising your free sample collection at the supermarket? On petrol by hitch hiking?
But the thing that this woman did that really got me was her method of going back to the store to complain about things she'd bought to get discounts. Okay, I can see how that would be beneficial, if a bit skeezy. But to complain, get the discount, and then return the item to the store for a full purchase credit at a later date?
Yeah, I'm pretty sure that's actually illegal.
I've done my share of money saving in my time. I've taken advantage of the $3 counter meal that the pub offers in the hopes that you'll spend a fortune on their poker machines, and I'm not too proud to buy things from the dollar store if they're cheaper there. Hell, I currently do the majority of my shopping at the supermarket where all the groceries look kind of familiar, but the names are just a little bit off.
But I can swear, with God as my witness, I will never ration toilet paper to six sheets a visit!
So, 'fess up guys. What's the weirdest or most embarrassing thing you've done to save a buck?