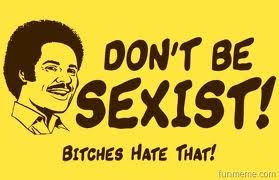 Here's a hypothetical question for you all. If a telemarketer hangs up on me because I don't have a husband, should I be insulted that he doesn't see me as a valid potential annoyee, or should I just be glad I got rid of him with so little fuss?
Okay, so it's not really that hypothetical, but I'm serious. I just got a call from a telemarketer who, in a very thick accent I might add, told me he was from some company I'd never even heard of and could he please speak to my husband about mortgages.
Now I'm a renter so I don't have a mortgage, but I didn't even get a chance to tell him that because as soon as I said "Oh, I'm single" he just thanked me for my time and hung up! Sure he was polite, but polite sexism really isn't better than any other sort.
It was as if I couldn't possible talk business because I'm a woman. Must be the ovaries, you obviously can't discuss mortgages if you've got ovaries.
But why on earth should it matter if I'm a woman? Were they specifically looking for male mortgage holders? Was it some sort of questionnaire and the'd already met their quota for women? Was he suffering from
Caligynephobia
and my obvious extraordinary femininity overwhelmed him? Well, he's only human.
But then I started to think about it a bit more. Why on earth was I getting upset about it? I may have just discovered the quickest and easiest way to get one of those annoying people off the phone without having to tell them half a dozen times that I don't want to change long distance providers and if they don't stop hassling me I'll ... well, probably do nothing if I'm completely honest. I never have found an effective way to deal with these pests. At least until now!
So from now I whenever a telemarketer calls, I'm just going to reply to their first question with "Sorry, I'm single" and hang up. I'll let you all know how it goes.