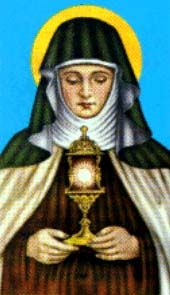 "Oh St Clare, patron saint of boob tube watchers! Why hast thou forsaken me?"
But I suppose it's not really fair to blame her. No one made me watch Toddlers & Tiaras. Nup, I got myself into that fix all on my own.
I've always had a love/hate relationship with reality television. Some of the shows, like the 1900 House series or Hoarders, I love. But unfortunately these gems are few and far between. If I sit down to watch a favourite sitcom, you can bet it's bracketed by a couple of inane reality shows, if it hasn't been replaced by them altogether.
It's not uncommon to find me sitting in my lounge room of an evening, watching my reality saturated television, and whining to St Clare.

But she's surprisingly unsympathetic.
St Clare: Would you please stop your belly aching! Didn't I give you Glee? Didn't I give you Criminal Minds? I worked my arse off so you could drool over Shemar Moore, but do you appreciate it?
Kellie: Of course I do, St Clare, but you've got to admit this really isn't one of your better works.
St Clare: Look, I can't patrol the channels 24/7. Every now and then a Toddlers & Tiaras is going to slip through. I'm only human you know!
Kellie: I'm not criticising your work. You did a great job on Merlin, and you know you'll always have my eternal gratitude for Star Trek. All I'm saying is if I have to watch another middle aged, over bleached woman shove her four year old into a pair of Spanx and a ball gown, I'm going to scream.
St Clare: Give me a few days, okay? I'll slip something really choice into Supernatural for you, maybe something with Dean and Castiel. Will that shut you up?
Kellie: Thanks, St Clare. That's all I ask.
I'm going to reserve my judgement though. Lets see if she delivers.