I think most of you already know my opinion on human slavery. In fact, some of you may remember back a few months ago when I made us all feel like awful human beings by
showing us what our slavery footprint was
.
Yeah, sorry about that.
But the reason I'm bringing it up again isn't to make you all feel horrendously guilty, it's to tell you all about something that the Harry Potter Alliance are currently trying to do.
Okay, I can hear you all saying "Wait up, the Harry Potter Alliance? What is that, some sort of role playing game?"
Well possibly, I don't know what they do in their spare time, but the HPA is a charitable group of Harry Potter fans who work together to raise money for different causes. Just to give you an idea of the scope of what they've managed to accomplish, they raised enough money to charter and fill five planes with things to send over to Haiti back when all the trouble was happening. Seriously, FIVE WHOLE CARGO PLANES!
Consider it a lesson in never underestimating a bunch of nerds when it comes to getting shit done.
But recently the HPA has turned it's attention to child slavery, specifically in the manufacturing of chocolate.
They wanted to find out if Warner Brothers was using Fair Trade chocolate in its Harry Potter merchandise
, so they sent them a letter to ask.
The reply they got was that, yes, Warner Brother did use non-slavery chocolate in their goods as per their ethical sourcing guidelines. However, when the HPA checked with an external organisation that specialises in assessing organisations for things like this, they were told that WB actually received a failing grade when it came to using Fair Trade chocolate.
Hmm, sounds a bit suspicious, doesn't it.
When the HPA took this news back to Warner Brothers, they were told that WB had done their own report and that they were satisfied with the results of it, but when the HPA asked to see a copy of it, they refused.
Even more suspicious.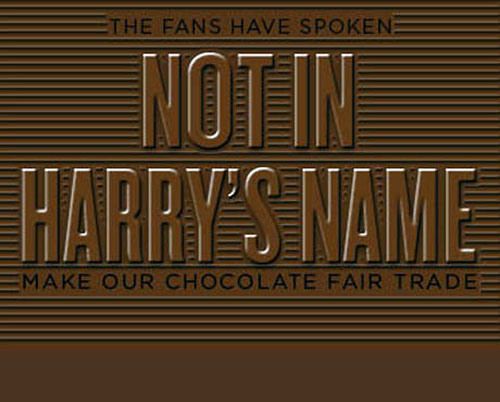 So now HPA has
started a petition to try and get Warner Brothers to show a copy of this report
that they claim to have. Go have a read and if you agree that it all seems a bit fishy, feel free to sign it.
Personally, I think things like this are incredibly important. It's one thing if a company chooses to use chocolate that isn't Fair Trade, but to say yours is when external groups are saying it isn't, and then to refuse to show the evidence you supposedly have, well that's quite frankly reprehensible.
I have enough human slavery bad karma all of my own, Warner Brothers, I don't need to be drawn in as an unwitting participant in yours too.