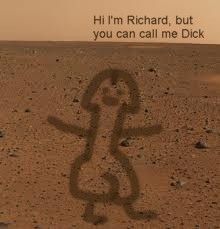 So ... did anyone else hear about how those jokesters at NASA spent
eight hundred million dollars so they could draw a picture of a dick on Mars?
*drops to the floor laughing uproariously*
Oh god, this is just priceless! Surely there are cheaper ways of seeing if a robot can draw vaguely obscene graffiti. Perhaps shelling out fifty bucks for a remote control car and a trip to the beach?
And if all they wanted was to draw dicks on things, couldn't they have just done it on a bathroom wall like a normal person? All that would have cost them is the price of a Sharpie.
Okay, okay, I know it's unfair to insinuate they did it on purpose, but that's the most amazing SNAFU I've ever seen! Can you imagine the technicians in charge of the Mars Rover Curiosity trying to explain that one away?
"I'm sorry, sir, I don't know what happened. One minute we were just doing our job, then Phil made a fart joke, and the next thing you know..."
According to NASA it was just a coincidence, and not a group of technicians acting like sixth graders. But I'm not buying it. I'm thinking that NASA guys are just like any other bunch of blokes. Get them together in a room for long enough, and their average mental maturity drops to that of a twelve year old.
Sure it was an accident, NASA ... sure it was.