As most of you know by now, I'm an enormous phantasmaphile.
I love all things spooky and ghostly. I've been on a fair few ghost hunts in my time, my collection of vintage true life haunting books is nothing to be sneezed at, and you've
already heard about my Paranormal State and Ghost Hunters marathons
.
So when I saw this practical joke that someone played in a beauty salon, I just had to share.
Why is it nothing this cool ever happens when I'm getting my hair done? The scariest thing that's happened to me recently at the hairdressers is this conversation I heard going on behind me while I was getting a trim.
Woman: Oh, don't cry sweethearts! Mummy's just getting her hair cut! Yes she is! She'll be finished real soon and then you'll get to have dinner with Daddy. Won't that be fun!

Children: *shrill screaming* I WANT TO GO HOME!!!

Woman: Yes you will! Dinner with Daddy!

Children: *wailing and punching* HOME HOME HOME!!!

Woman: Yum yum yum! So much fun!

Children: *yelling and making a break for the door*
Terrifying, no?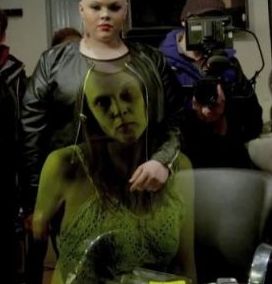 Luckily I was facing away from her so I could indulge myself in a fit of the giggles, much to my hairdresser's consternation. At one point she even ducked down under the bench with the pretence of plugging in a hair dryer, just so she could slap me on the leg and mutter at me to stop laughing or she was going to lose it.
I thought I'd been pretty subtle about about it, but the filthy look I got from that woman as I walked out of the salon made me realize that perhaps not. That's when I remembered that even though I'd been facing away from her, I HAD been sitting in front of a mirror. A mirror which would have quite clearly showed my face to the rest of the room.
Oops?
Damned hair salon mirrors, always causing trouble.