Well today's the day, my little geeklets! The guesses have been tallied and only one person was able to identify all of the items and name all four areas of geekdom ... and that winner is
Pickleope
! Congratulations Pickleope, and here's hoping you pick something fun with your gift voucher!
A lot of people said that they saw something Lord Of The Rings themed in the picture, but to my knowledge I don't have anything from that fandom. Do I have random geeky things sneaking their way onto my desk now? Anyone want to fill me in on what it is that's convinced everyone I'm a Hobbit lover?
For those of you who are interested, the four categories of geekdom that you were looking for are as below.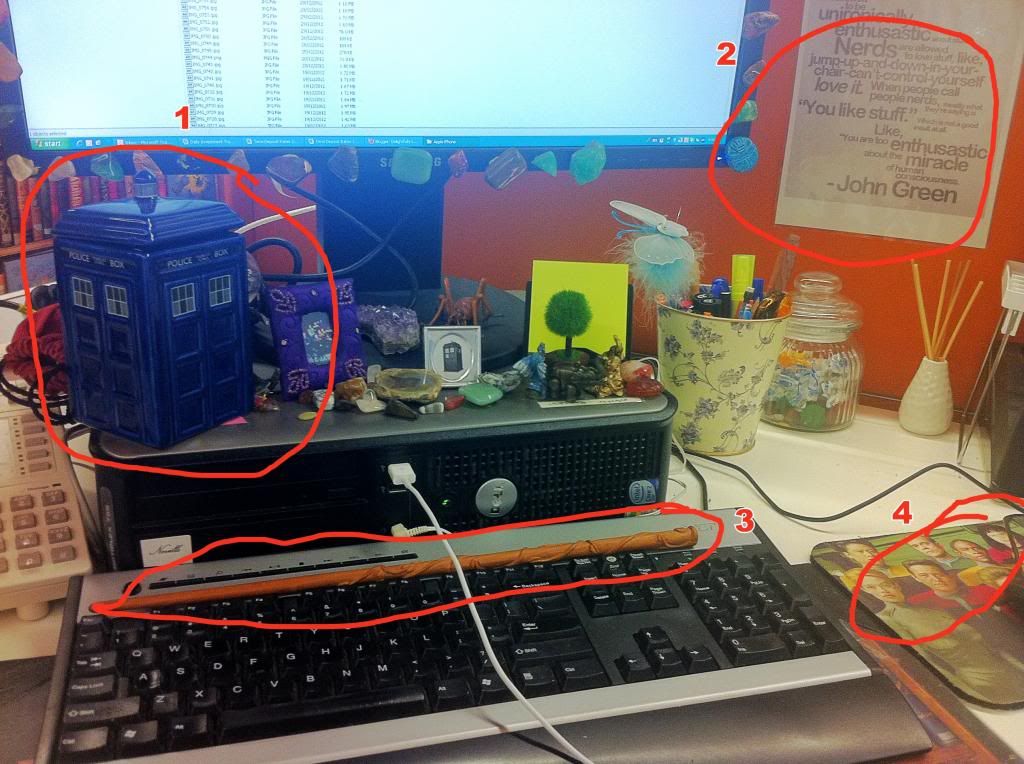 Doctor Who: Nothing makes hot chocolate taste better than drinking it from a TARDIS mug! And yes, for those of you wondering, it IS bigger on the inside! There's also a wee little picture of the TARDIS in the silver frame, which was what I got out of my cracker two years ago at the work Christmas party. Well, what else was I supposed to do with a one and a half inch frame!
Nerdfighters: The quote that's printed on that poster is by John Green, one of the founding brothers of Nerdfighteria. It's one that pretty much epitomises what it means to be a geek, and why that's an awesome thing. If you want to read it in it's entirety, you can here.
Harry Potter: Yep, I have a wand. I like to pull it out when someone asks me to do something impossible and tell that that I'll get right on it as soon as I remember the spell to perform miracles. Also, it's very handy for pointing to things on the computer screen.
Star Trek: That mouse mat was a gift from a friend years ago. Although you can only sort of see it, I'm photoshopped into the picture standing next to Tuvok. There's also a very small group shot of them in the purple frame, but I thought that was probably too small for anyone to make out.
Yeah, I know. That's an awful lot of pure geek for one desk, but what can I say. I'm hard core.