I love cooking shows. I love watching them as they create little pieces of art out of four potatoes, an eggplant, and a crawfish. I love how excited they get about it, waxing romantical about the joys of food. What I don't like? Cooking.
But I do love watching those shows. I remember I used to love Jamie Oliver (before he became famous and a bit of a prat), and watched his earlier shows religiously. He was just so enthusiastic! He'd stumble over his words and be all sorts of adorable while the person behind the camera had to egg him on by asking questions about what he was doing. I'm also a big fan of Nigella Lawson, the woman who can make de-boning a chicken look X-rated. Seriously, anyone who can act that sensual about food while not actually doing anything sexual has my stamp of approval!
Like a lot of things I have an interest in, though, I'd much prefer to watch someone else do it than attempt it myself. My philosophy is I'm not a professional. If my toilet broke, I'd call a plumber, not stick my hand down the s bend. So if I want a chicken kiev I'm going to go to the person most qualified to give it to me.
And most of the time that person is a chef at a restaurant or a cafe (and occasionally my mother).
So why am I bringing it up? Well, today I found myself in the position of having to roast half a kilo of almonds. I've never roasted an almond before, let alone half a kilo of them, and I wouldn't have had to today if my supermarket wasn't so plebeian that they only sold them raw instead of the barbeque roast flavour that I prefer! How very dare they!
But how exactly does one roast an almond? After a quick sacrifice to the Google gods, I discovered that you just whack them in a low oven for about ten minutes, or until the smell of roasting almonds comes wafting out. I don't know, Google! It's not a good idea to give me options when it comes to something I'm not very good at. I always pick the wrong one. Always!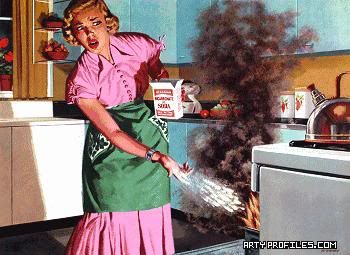 My oven, artist's interpretation.
And what does a roasting almond smell like, anyway? They've always already been roasted by the time I get them! So I went with the timed option. Might not have been the best option, especially when paired with the unpredictable nature of my 473 year old gas oven (age estimated based on an excavation of grease layers).
So now I have two trays of roasted almonds, all of them slightly funny looking and ... for some strange reason ... more than a little chewy. I'm relatively sure that none of the almonds I've bought from the shops ever looked like this.
Crap, maybe I should have just got the cashews...